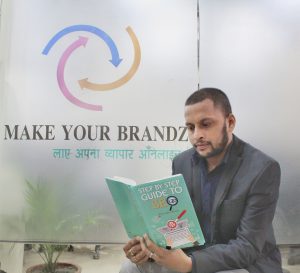 I am Upendra Singh Rana, professionally known more as  Upendra Rana. Awarded as First Indian Writer who writes books on SEO and available on digital market like Amazon, Flipkart, Snapdeal, Infibeam Google plays store, Apple iBookstore, Barnes & Noble, National book store and many more. I have been interviewed by several National TV news channels (DD News, Prime News, Hindi Khabar, Total TV, Sahara Samay News, Nation live, SNI News India, Samachar Today and many more web TV channels) and 90.4 Radio Salam Namaste. My interview and success stories have been published in several local and national newspapers (Dainik Jagran , Hindustan, Danik Bhaskar, Rashtriya Sahara, Indian Horizon, The Sikh Times and many more) besides digital media.
Magazines also cover my story (All About Publisher, National Press Times, Women on Top and Brahamasagar)
I am passionate about the world of Internet Marketing and Online Media. Since joining Facebook & Twitter in 2009, I have used the platform extensively to first connect with friends and family, then I share my interests and knowledge. After that interest arise toward internet Marketing.
Currently started own result oriented IT Company named as "Make Your Brandz" having 6 years of total experience in digital market, where I help big corporate clients improve their online presence & generate sales through latest SEO techniques, traffic through SMO, personal branding.
I keep myself updated with major search engine algorithm and ranking systems, specific for Google. I believe SEO/SMO is an on-going learning process that comes with a new challenge every day and that what excites me to think innovative and act proactive.
Apart from being a dedicated online marketer, I am a talkative and funny guy who enjoys internet surfing, socializing, playing cricket, listening music, writing & reading books. Music keeps me going and friends keep me happy.
A great deal of people nowadays are attempting to employ essay writers since they find it difficult to write their own papers because of lack of proper knowledge and skills within this field. There are many of those who make a handsome amount from writing college admissions essays, thesis statements, journal articles, book reviews as well as term papers. These essay authors may also help in completing paper writing service projects, which might appear to be very taxing on the part of the students. The best essay writing service should be able to aid you in making your desirable marks by directing you in finishing the job easily.